Return to Headlines
LCMSD Newsletter February 1, 2019
In this edition: budget update, retirement incentive, and parent education opportunity.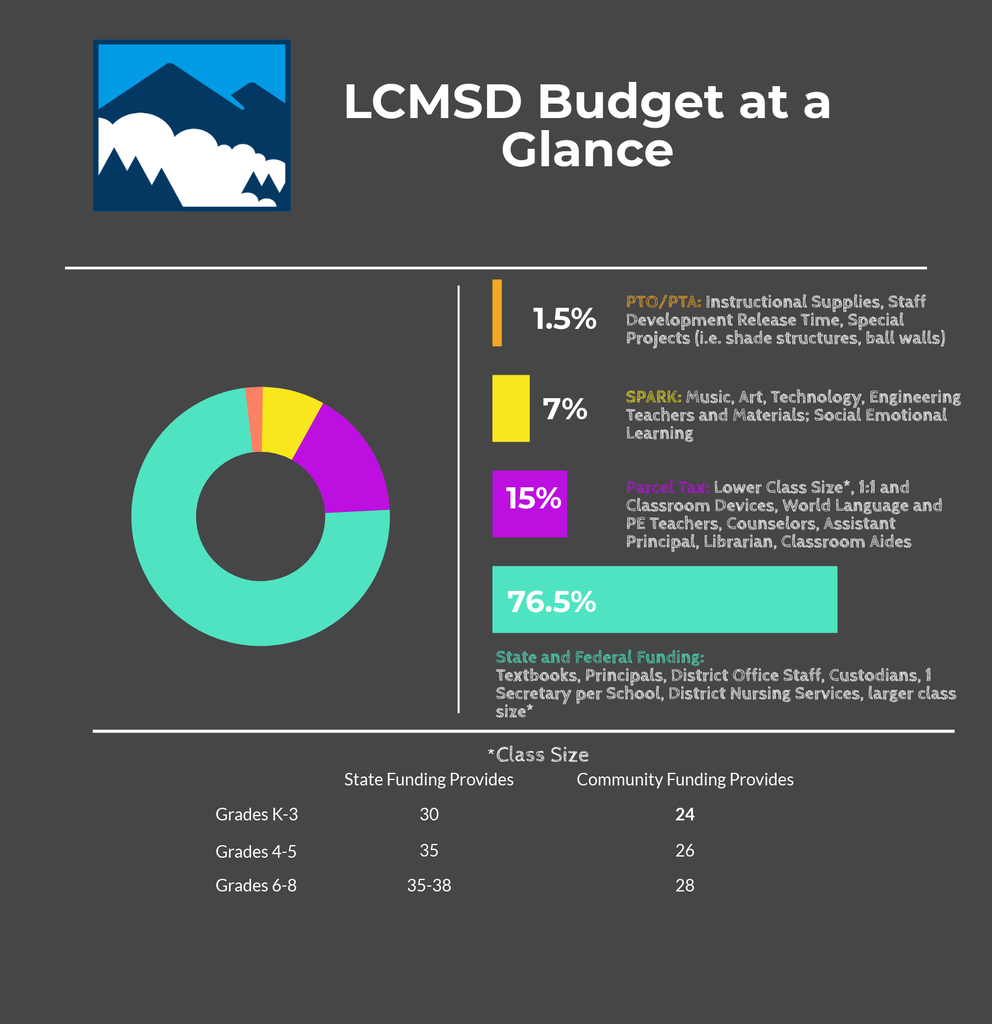 Budget Update: Anticipated 5% Reduction
Above is a graphic that highlights the importance of community funding through the parcel tax, SPARK, and PTA/O. Without your partnership, our classrooms would look dramatically different as school districts are only funded at the 2007-08 level. Even though California is the 5th largest world economy, it ranks 45th in per pupil funding.
Since Governor Newsom's recent budget proposal has a minimal positive impact on us, and education/operational costs continue to rise, we are facing a reduction - approximately 5%, or just below $1 million. We have been forecasting this, especially when looking at worst case scenarios when little to no adjustments are made to educational funding. Our forecasting and communications have included:
Please know your feedback is extremely valuable. Here is a link if you would like to give input via a survey. Below are additional opportunities to provide feedback:
Board Meetings
1/23/19: Here is the budget presentation discussed during the meeting

2/6/19: Budget Study Session

2/13/19: Recommend resolutions for a reduction in force
Parent Budget Discussion Meetings
Hall: 2/4/19 8:15 am - 9:15 am

Cove: 2/5/19 8:15 am - 9:15 am

NC: 2/6/19 8:15 am - 9:15 am
(Note: Opportunities for staff budget discussions have been emailed to LCMSD employees)
While reductions are challenging, we are confident that we will continue to provide an exceptional educational experience for our students. We appreciate the feedback we have received over the past year, and encourage your continued participation in these important conversations.
Retirement Incentive
To offset potential layoff notices, recognize long-standing service to education, and provide cost savings to the budget, the LCMSD Board of Trustees approved a retirement incentive for all eligible employees. The benefit comes in the form of an annuity based on 80% of the employee's current salary and spread out for 5+ years. This is an exceptional offer; however, the District needs enough participants to make this program a cost savings measure and has the right to cancel if there are not enough staff enrolled.
Parent Workshop: Attention and Focus Matter for Learning and Well Being
February 5th from 6:30 p.m. - 8:30 p.m. at Cove School When deadlines loom, we are grateful for our ability to focus on task completion. And we often bemoan the fast-paced nature and digital distractions of our modern society that can interfere with our attention. Conversely, most of us do not value time spent reflecting or day-dreaming to the same extent we value so-called productivity. These priorities should be reconsidered since neuroscientists have come to understand that there are in fact two kinds of attention in the brain, both of equal importance for personal and academic success. Please join Dr. Kelly Kent of adaptED as she discusses attention and the impact of modern technology on whole child development. To register for the event, please click here
Follow Us! #WeAreLCMSD
Larkspur-Corte Madera School District Board of Trustees
Sarah Mueller, President; Jill Sellers, Vice President;
Monica Cañas; Katherine Chan; Katie Zwarg
Superintendent
Dr. Brett Geithman