Return to Headlines
LCMSD Important Updates 1.7.21

Dear LCMSD Community,
I hope this reaches you well and safe. Please know how much we appreciate your cooperation and consideration of our entire learning community in following our Winter Re-Entry Plan. We had 263 students live stream due to travel or gathering over the break. That is 21% of our in-person learning enrollment, which means that 79% were able to return to classroom-based instruction on Monday, January 4th. It takes us all working together to keep our schools open and safe. Thank you for doing your part!
Take care,
Brett Geithman, Ed.D.
Superintendent
Below are important updates:
Stay at Home Order - Traveling and Gathering
We greatly appreciate your commitment to our Winter Break Re-Entry Plan and the current Stay at Home Order. The Order has been extended until further notice. In planning for the weekend and day to day activities, below is helpful information for families to navigate the current Stay at Home Order:
Gathering

Is defined as more than one household gathering inside or outside at a residence

Permitted gatherings

Organized sports/activities

Childcare

Outdoor recreational activities (hiking, biking, surfing, etc.)

Is defined as more than 120 miles from your residence for non-essential purposes

It is important to note that any Marin County resident who engages in non-essential travel has violated a state order; this includes traveling to Tahoe for skiing and/or a vacation residence

Permitted travel

Within the Bay Area (map)

Here is the CDC frequently asked questions page regarding the Stay at Home Order
Please do not send your child if they or anyone in your household has symptoms of illness. Email Coveabsentee@lcmschools.org / Hallabsentee@lcmschools.org / NCabsentee@lcmschools.org and your child's teacher so we can set your child up to live stream. We will continue following the current Marin County decision tree.
We have updated our COVID Daily Screening to include a travel/gather question.
This will remain in place throughout the Stay at Home Order.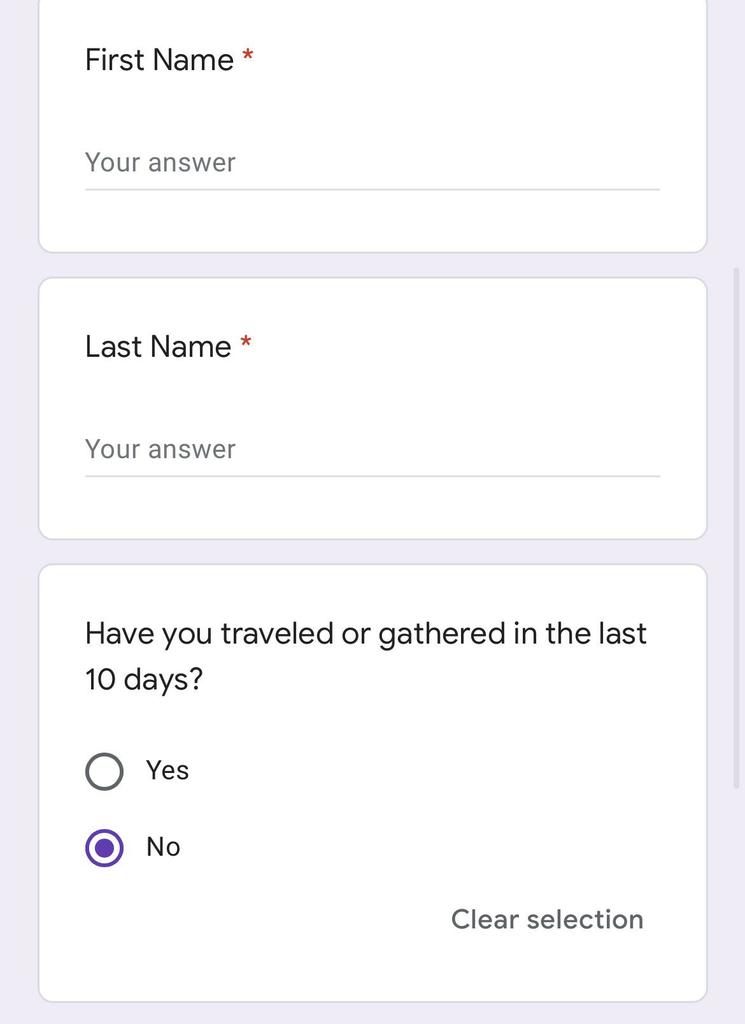 What if we traveled or gathered?
It is our expectation that children who traveled outside the Bay Area and/or gathered with members outside of their household will not attend in person school until they:
1) quarantine for 10-days following the gathering/ traveling OR
2) return after day 7 with a negative test performed on/after day 5 (diagnostic molecular rt-pcr tests only) and remain asymptomatic.
If we learn that a student has traveled/gathered within 10 days and arrives at in-person learning, they will be sent home until the above criteria are met.
Here's how to proactively prepare your child for success:
Fill out this form if you traveled or gathered. This form notifies the school and allows us to prepare for your child to live stream. Live Stream is different from Distance Learning. During live streaming, a student is observing the classroom through a camera/speaker via Zoom. This requires independence on the student's part or adult support.

Email Coveabsentee@lcmschools.org, Hallabsentee@lcmschools.org, NCabsentee@lcmschools.org and your child's teacher with updates on your child's status (testing results, anticipated return to school date, etc).

Sign up for a test! Curative is offering testing in Marin seven days a week (book here). Check back often as more appointment time slots will be added.
Thank you to everyone for your role in helping to keep our community as safe and healthy as possible---completing the daily screenings, quarantining your children for Test or 10 when they (or a sibling) have a symptom, supporting your children through distance learning, offering hands-on help in peeling plexiglass covers and taping arrows on the ground, volunteering at and participating in our community COVID testing in November, being flexible with schedules that are less than ideal for everyone, and the list goes on and on!
Your actions impact the students and staff in our learning community. Thank you!
Curative Testing Seven Days a Week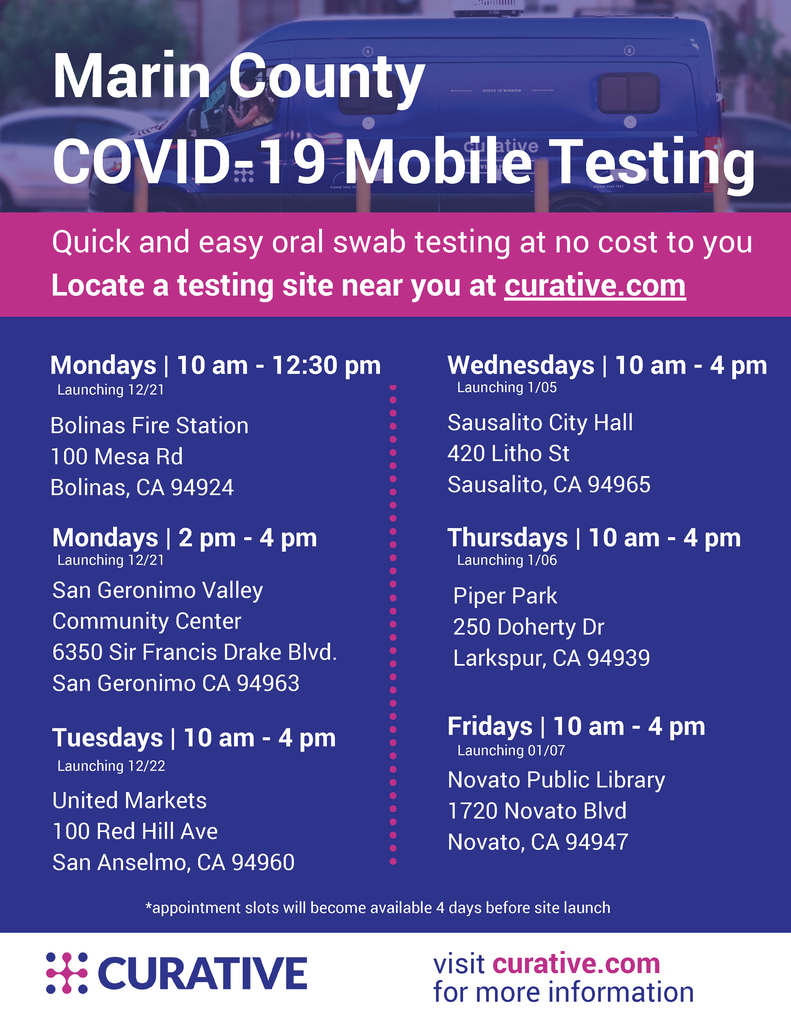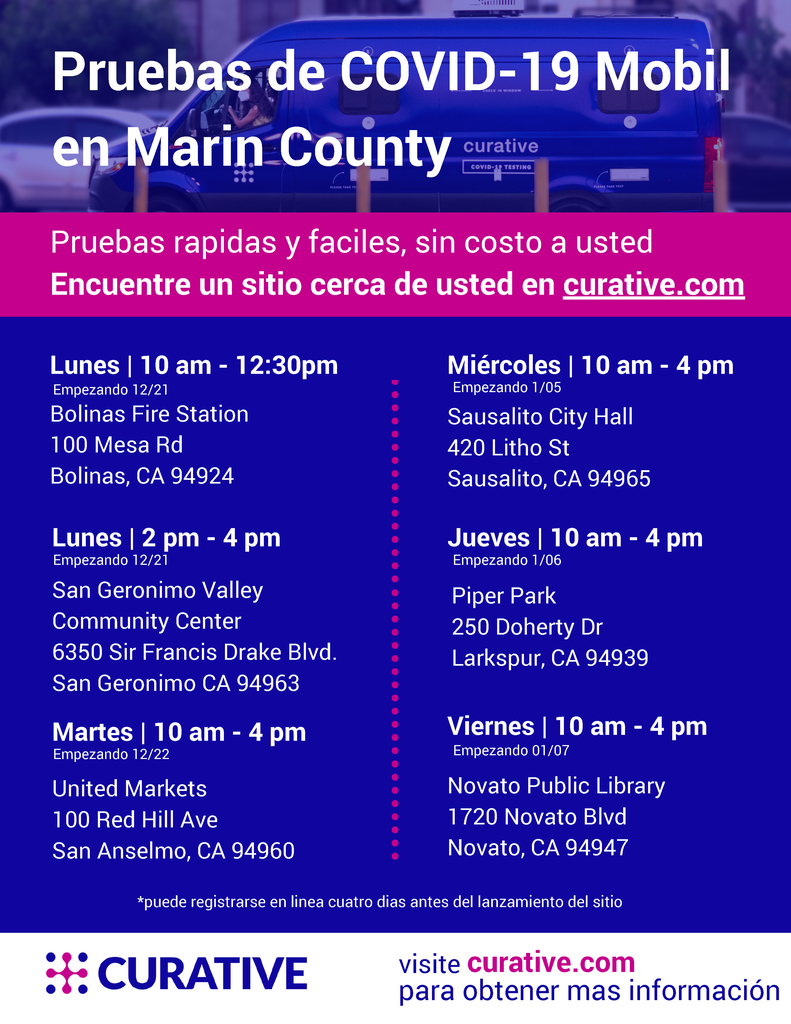 Vaccine
The vaccine distribution has begun in Marin with Phase 1a in full swing. You might have read about the rate of administering the vaccine being an issue; however, this is not the case in Marin. The issue in Marin is acquiring an ample supply of the vaccine. Currently, we are averaging 975 units per week; however, it is anticipated that this will increase to between 2,000 and 3,000 units per week. Due to the supply issue, Marin's goal for Phase 1a completion is January 31. Phase 1a includes school nurses and Phase 1b includes school staff. We anticipate Phase 1b to begin the first week of February. Once an individual has been vaccinated (both doses), it is extremely unlikely (95%+) that they could be a carrier of COVID and pass it to someone else; however, staff will still be required to wear masks until further notice. We will keep you posted on staff vaccination progress. Here is an article discussing teacher vaccination.