Return to Headlines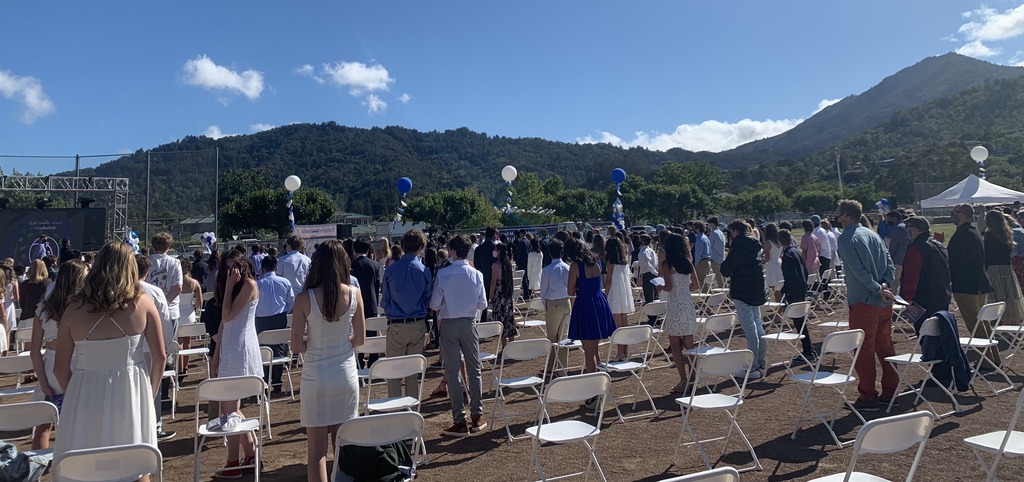 Congratulations 2021 Hall Graduates!!
Dear LCMSD Community,
In August, I welcomed you to the most unique year in Larkspur-Corte Madera's history with contingency plans on how we would navigate the pandemic and the state's requirement for us to begin in distance learning. As a district, we committed to you, our students, our parents, and our community that we would work tirelessly to transition safely and responsibly to in-person learning as soon as permitted. Whether or not to return to in-person learning was never a question for us; it was our commitment to you. Our lenses for decision-making were grounded in equity, science, and local/state public health guidance.
Our extensive planning during the spring and summer of 2020 allowed us to quickly pivot from distance learning to AM/PM in-person instruction on October 5, 2020, four business days after being permitted to open per the Blueprint for a Safer Economy. As a district, we welcomed students back and greeted some for the first time. This was an emotional day and I can vividly picture kindergartners walking onto campus for the first time with their parents cheering and taking pictures. A plan to return in person was not a state requirement placed on districts, rather it was our commitment to you. This work, with variables that were constantly changing, took precedence to our summer, nights, and weekends; our kids needed to be in school and we were determined to find a way to make it happen.
After Thanksgiving Break, we embarked on another service to our community - access to testing. Our partnership with the Town of Corte Madera, Curative, and parent volunteers, coupled with fierce determination from our leadership team and health office staff, operationalized the testing of just shy of 2,000 students and community members.
In December, a county-wide vaccine task force was formed. I jumped at the opportunity. By mid-January, mass vaccination sites were set up and school staff across the county were receiving their first dose. As one must do during a time of crisis, we pivoted again. This time sharing with the community our goal of returning to full classrooms and extended days of learning. To meet this goal we wanted all staff to have the opportunity to be fully vaccinated (97.25% participated) and we needed parent volunteers to assist with cohort requirements for lunch and recess. We met the vaccination goal and you stepped up to meet our parent volunteer goal. Because vaccine availability increased, we also were able to provide stable lunch volunteers with early access and had 100% participation in volunteer vaccination.
On April 12, we returned to full classes, full days at Hall, and a greatly extended day at Cove and Neil Cummins. What we heard over and over as the best parts of the day were recess, lunch, physical education, and specials/electives (music, art, tech) in person. What this translates to, is the basic need for human connection. School is about academics, but equally important is the socialization that occurs. Going to school and having to navigate all kinds of social situations from lunch to group presentations, is what fosters growth to be successful in many other environments. Zoom/distance learning was our best tool to address school closures, but it is not a substitute for what happens on campus, not even close. Students need to be with their teachers, with their peers, and in a physical environment designed for them.
This week we are wrapping up our most unique year in LCMSD's history. Promotions and graduation are in-person and as close to normal as possible. Congratulations to our 8th grade graduating class of 2021!!! Students are engaging in end-of-year festivities such as field day or a friendly kickball game with their classmates. Age 12+ students are receiving their second dose of the vaccine and Marin is leading the nation in the percentage of residents vaccinated. Families are gearing up for the summer - road trips, beach days, camps, vacations, and time together. The Blueprint for a Safer Economy is coming to a close on June 15th. More and more hope is on the horizon. We are planning for our typical class size and typical day when we return on August 18th. Additionally, we look forward to seeing the updated Marin County Public Health Guidance later this month. We are optimistic that things are only going to get better.
It has been a year. A year to remember. A year when we were our best selves as a learning community and showed up for our children when they needed us the most. On behalf of the Larkspur-Corte Madera School District, thank you to our Board, teachers, staff, administrators, parents, community members, and of course our students!
In times like this, someone has to lead. As a district (teachers, staff, administrators, Trustees, parents), we were proud to be the leaders and blaze this trail for children far and wide. 2020-21 highlights include:
LCMSD was the first multi-school district to return all students K-8 in Marin (and most likely amongst the top in the state)

Hall Middle provided more in-person instructional minutes daily and throughout the entire school than any other middle or high school in Marin (and most likely amongst the top in the state)

Cove and Neil Cummins provided more in-person instructional minutes daily and throughout the entire school than almost every other elementary school in Marin (and most likely amongst the top in the state)

Schools and districts throughout Marin and the state learned from our practices by attending in-person tours and virtual meetings - this translated to more kids in school!

When on Test or 10, LCMSD students were offered live stream classes

96% of students attended classes in-person daily

140 out of 180 days of instruction were offered in-person

7 total cohorts were closed due to a COVID+ case; no classroom transmissions occurred

280 parents volunteered on campus every week to assist with lunch and recess

97.25% of staff and 100% of stable volunteers are fully vaccinated

Agreements between the District, CSEA, and LCMEA are used as models throughout the state

ABC, NBC, NPR, CCEE, and LPI celebrated LCMSD's success
THANK YOU to our teachers, staff, and administrators for their herculean efforts to adapt to the ever-changing needs of the pandemic and for showing up for students each and every day. THANK YOU to the Board of Trustees for their steadfast commitment to equity, science, and providing in-person instruction to the greatest extent possible. THANK YOU parents for your ongoing support - whether that be transforming your home to a classroom, peeling plexiglass, or assisting with lunch. THANK YOU SPARK and PTO/PTA for fundraising to support our schools and being leaders amongst our community. THANK YOU students for being our inspiration - you are why we all banded together to make this year possible.
On behalf of LCMSD, we want to extend much gratitude to Dr. Matt Willis and Dr. Lisa Santora. Their leadership and expertise coupled with a strong partnership with MCOE and Marin school districts paved the way for children to safely return to school.
As a UC Berkeley history professor shared with me earlier this year, "When the school chapter of the pandemic is written, LCMSD will be one of the few on the right side of history." Congratulations on not only persevering through this difficult time but doing an extraordinary job in the name of our children.
With gratitude,
Brett Geithman, Ed.D.
Below are some end of the year LCMSD announcements:
Retirements
Education isn't just a job, it is a passion, it becomes your identity, it is the fire inside you to make a difference in the lives of children and families. Thank you for your dedication and service to the profession. Your impact will last for generations.
Congratulations to this year's retirees:
Michael Arrow, Neil Cummins Teacher

Elaine DeMartini, Neil Cummins Teacher

Alice Franco, Cove Teacher

Ted Stoeckley, Hall Teacher
School Guidance to Be Updated Shortly
Marin County Public Health (MCPH) and the California Department of Public Health are expected to release school guidance for the 2021-22 school year shortly. MCPH has scheduled a community meeting on June 16th at 1:00 to discuss the 2021-22 school year, vaccinations, and what the community should expect after June 15th (the end of the Blueprint for a Safer Economy). Here is the Zoom link. The recording will be posted here shortly after the meeting.
Summer "Homework"
I've been asked by a number of parents what students should focus on during the summer. Below are my recommendations:
Read, read, and read more! Just because it is summer, that doesn't mean your student should take a break from their

20 minutes

of reading per day. Please see the excellent advice and resources below from our LCMSD Librarian, Joy Lynn King.
Reading and engaging with books and text is always important, but perhaps even more so over the summer. According to Booksource, "Students who read during the summer gain an average of 1 month of reading proficiency. Students who don't read lose an average of 2-3 months proficiency and over time, those lost months add up to years." Access to books and student choice is key. Students are motivated when they can choose books they are interested in and reflect their personal interests.
Here is the link to Ms. King's webpage. She provided all of these wonderful resources.
For parents... check your parental controls on devices.

This book

will show you a step-by-step method for securing devices and apps like iPhones, iPads, Tik Tok, Instagram, Xbox, etc.

Common Sense Media

Wide Open School

contains activities, curriculum, and engagement opportunities for students over the summer.
Have a great summer. So long 2020-21. That's a wrap!