Return to Headlines
Reopening Pictures and Q and A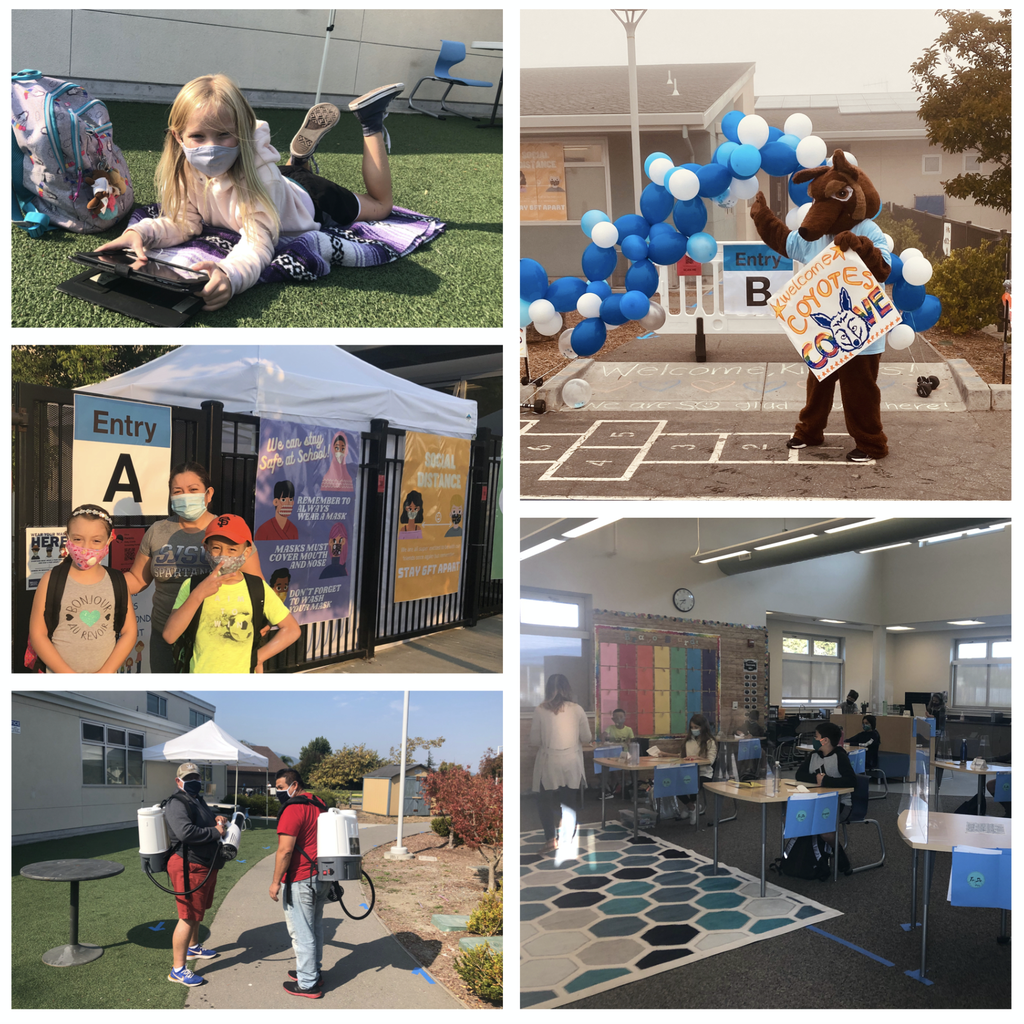 Dear Families,
Our first two days back have been amazing! The sunshine cooperated and allowed for lots of outdoor learning. The teachers are very much enjoying working with students in small groups. In fact, they are finding they can get a lot of instruction done in the 2 hours and 50 minutes!
Some Highlights:
Our AM kindergartners had their first day of in person elementary school. Can't wait to welcome the PM group on Thursday!

Almost everyone has filled out the daily health screen each day. Keep up the great work!

Students are being great about keeping masks on and keeping social distance.

Teachers have set up great teaching spaces - they are warm and inviting, yet safe!

Teachers have already started conferring with students.

The electrostatic sanitizers are amazing! They are fast to use, quick-drying and highly effective!
Check out this album of Cove School Reopening Pictures from yesterday and today.
Questions? Once all of our families who are returning in person have a chance to experience the routine for a couple of days, I am offering a Q and A session for parents on Monday, October 12 at 5pm via zoom. Please submit questions in advance here by noon on Monday to ensure I am able to answer them in the meeting. Zoom Link Meeting ID: 671 700 3543, Passcode: Cove
Cove Parent Support Session with our Counselor Tomorrow- October 7th from 9:30am-10:30am. Zoom Meeting Link Parenting has become harder than ever with the pandemic triggering and exacerbating emotional upset and our ability to manage that upset. The loss of control has created a huge sense of discomfort and unease in our community. I will be holding a Cove Parent Support Session to help soothe the anxiety that is bubbling up for so many of us with all that is going on in the world and the upcoming changes in school structure. The goal of this meeting is one of emotional support. I will review strategies and tools to help support families and students during this transition. I listed some ideas below.
Please fill out the Cove Parent Support Session Questions Form to pre-submit a question or concern related only to the social emotional support of your children/family. It would be of great help to know your question or concern ahead of time so that I can do my best to adequately answer it. Please keep in mind that requests for cohort transfers and/or blanket complaints will not be addressed in this forum. Sincerely, Mrs. Headley
This transition is big, and your children have handled it beautifully. Thank you for all of your planning, rearranging of your schedules and flexibility required to make this reopening possible.
Sincerely,
Michelle Walker, Principal