October 1, 2019 LCMSD Newsletter
In this edition . . . professional development, Board updates, counseling, and safety.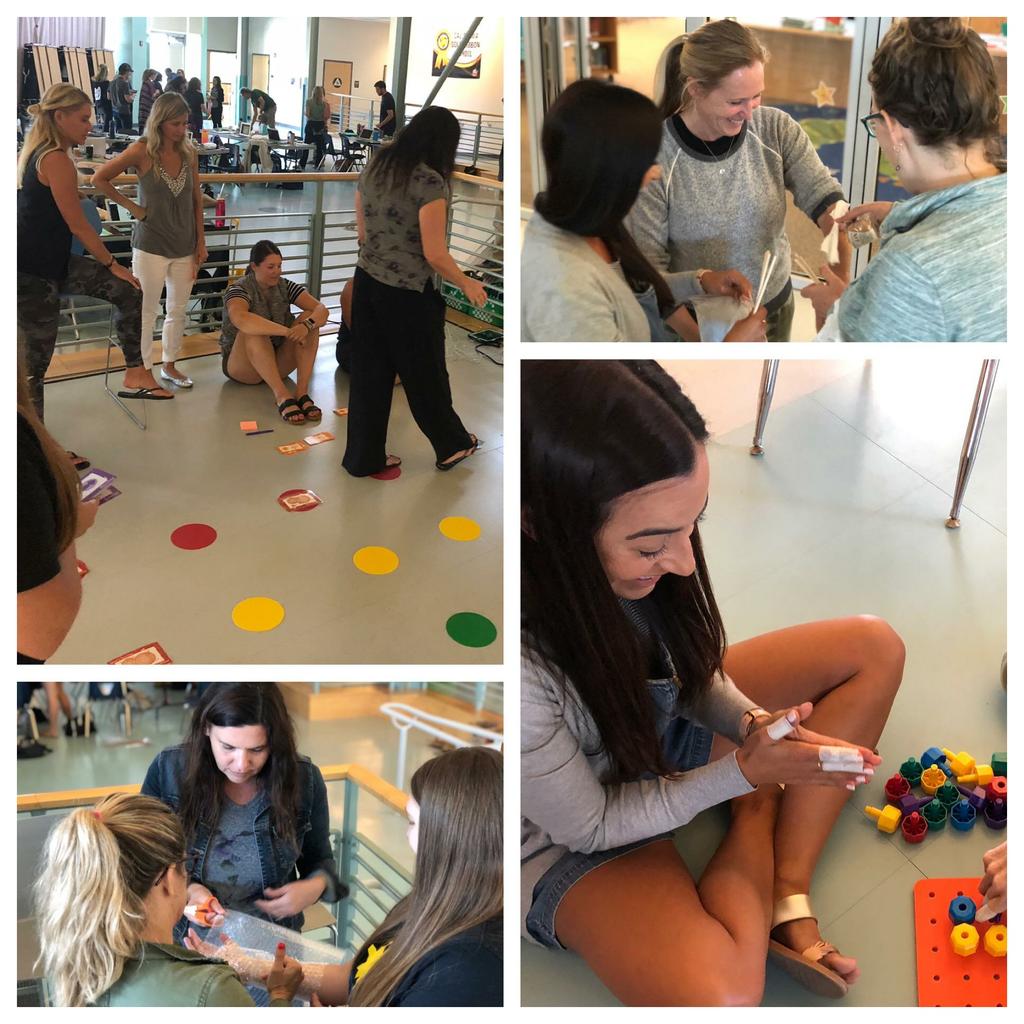 Elementary teachers actively engaged in engineering training.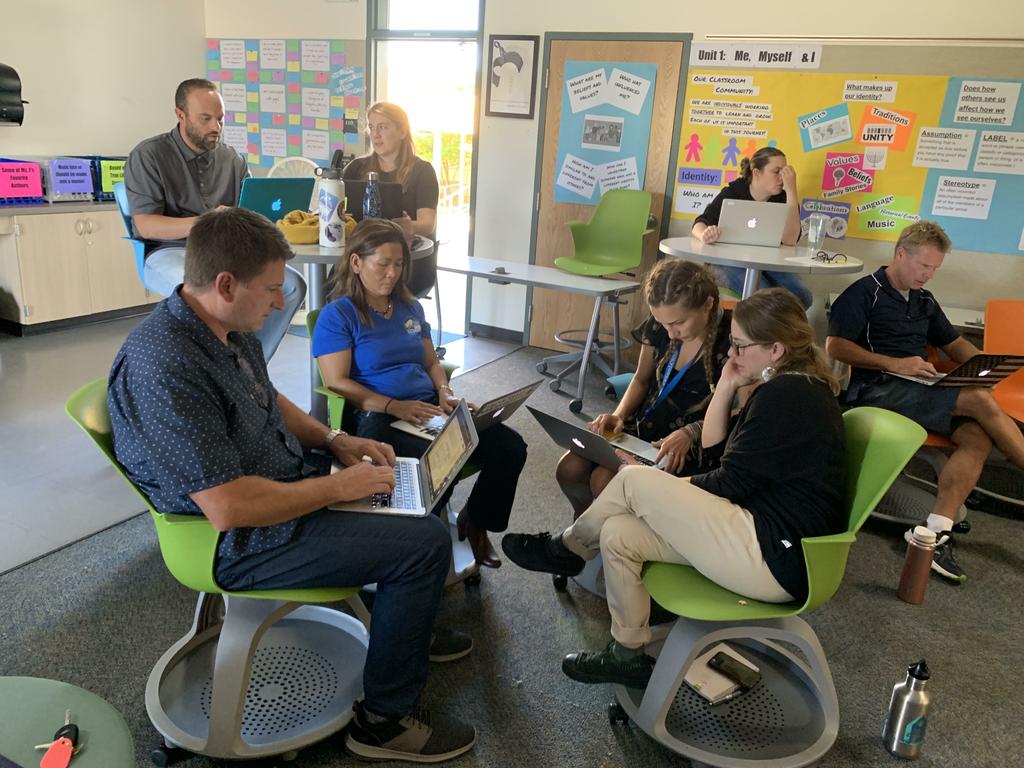 Hall teachers revising/creating standards-based grading rubrics.
Where's My Teacher?
You might be wondering what teachers were up to on September 20th. These built-in professional development days allow us protected time to focus on district priorities. One problem of practice seen in other districts is a lack of teacher training or professional development that doesn't have clarity and purpose. In LCMSD, we have committed to multi-year plans that systematically provide teachers with the tools to implement priorities such as (Columbia) Readers and Writers Workshop, Cognitively Guided Instruction in mathematics, the principles of engineering through the SPARK funded Project Lead the Way, SPARK funded wellness and mindfulness, and more meaningful feedback through standards-based grading. Below are the exciting topics from our September 20th professional development:
Standards-Based Grading at Hall
Hall teachers spent all day working in department teams on standards-based grading (SBG). Teacher teams have identified the key academic and behavioral standards that will appear on your student's report card and are continuing to develop rubrics that clarify how students can achieve proficiency in each standard. Hall's shift to SBG - along with Redwood feeder schools in Reed and Ross - is the result of a collaborative teaching staff committed to giving every student nuanced feedback on their learning journey. Hall is excited to report that, along with the official T1 report card, all students will complete a multi-faceted self-assessment of their learning and growth in November. Teachers have already been giving students a lot of feedback on their work; have your middle school student show you work in places like Google Classroom, their Science and Math notebooks, and in Alma.
Engineering - Project Lead the Way
SPARK funded Teacher on Special Assignment (TOSA), Michael Song, and former TOSA (now Del Mar Middle School Assistant Principal), Ann-Marie Skaggs, facilitated an interactive engineering workshop aimed to certify all K-5 teachers in Project Lead the Way curriculum. PLTW empowers students to develop and apply in-demand, transportable skills by exploring real-world challenges. Through pathways in computer science, engineering, and biomedical science, students not only learn technical skills, but also learn to solve problems, think critically and creatively, communicate, and collaborate. PLTW curriculum is utilized in LCMSD classrooms to support the principles of engineering, which are now a part of the science standards (Next Generation Science Standards). Elementary teachers completed an online pre-workshop module and will also participate in future workshops to fulfill PTLW certification requirements. Michael Song will continue coaching teachers and modeling engineering lessons in elementary, as well as teaching game design at Hall Middle. Thanks SPARK for providing these amazing engineering experiences for students!
"Effective professional development is intensive, ongoing, and connected to practice; focuses on the teaching and learning of specific academic content; is connected to other school initiatives, and builds strong working relationships among teachers."
School Redesign Network at Stanford University
Later this year, you might be wondering where your child's teacher is on several days when we have grade level or middle school department release days (with substitutes). These days allow us to practice what we've learned in workshops in a classroom with students. We call these Lab Days. SPARK Fund-a-Need Lab Days are facilitated by experts from UCLA (CGI math) and Momentum in Teaching (Columbia Readers and Writers Workshop) where teachers try out strategies in the identified lab classroom through co-teaching, and oftentimes, modeling by facilitators.
Board Updates
During the September 11th, meeting the Board recognized newly-permanent teachers Rebecca Bisel and Julia McKee, approved the unaudited actuals, reviewed the enrollment and staffing report, and recognized the collaboration between LCMEA and LCMSD in creating a tentative agreement for the 2019-20 negotiations. During the Board report, Vice President Sellers described a recent MCOE meeting she attended and how the Schools and Communities First Act opponents have begun to send out mailers with misleading information. Specifically, mailers are focusing on the residential portion of Prop 13, which would not be affected if this Measure passes; only property taxes for commercial real estate would be adjusted. This Measure would generate an estimated $2,000 per student if passed.
For the October 23rd meeting . . . Principal Eric Saibel will be presenting updates on Hall's standards-based grading and we hope the California Department of Education will publically release CAASPP achievement data so it can be presented and discussed.
K-8 Counseling Program
Our SPARK funded wellness program is led by our three amazing counselors: Julie Auslander, Scarlett Headley, and Kyle Shaw. This well-trained counseling team is dedicated to supporting the social-emotional and academic growth of our TK-8 students. They develop and access these skills in the classroom, on the playground, individually, in small groups, and school-wide. The TK-8 wellness program focuses on the following:
Conflict Resolution

Communication Tools

Assertive Language

Self-Regulation

Self-Esteem

Problem-Solving Skills

Positive Choice Making Skills

Diversity

Empathy

Safety

Wellness

Mindfulness

Drug, Alcohol, Tobacco/Vaping Education and Prevention

Family Life Education

Suicide Awareness & Intervention

Self-Harm Awareness

Human Trafficking Education
Safety Update
LCMSD's top priority is student and staff safety. We are constantly revisiting plans, collaborating with first responders, and ensuring our schools are implementing best practices. During the week of September 9th, I facilitated coffee chats across the district focused on school safety. A next step, suggested by a parent, was substitute training. While we have all emergency plans in all classrooms and sub plans typically contain information regarding safety, it would be better to hold a formal training for substitutes so they are even more prepared for emergency situations. Therefore, we will be sending out a video this month to all substitutes that reviews our emergency responses. This video will be shown to substitutes hired in the future as well. In addition to this improvement, we also had Police Captain Hamid Khalili engage our administrators and district support staff in an intruder/active shooter tabletop exercise, we are installing new radios across the district so we can communicate even when phones/cell towers are down, we are testing security cameras to be installed later this fall, and we have short-term solar battery backups for our sites that will help send communications to parents in the event of a power shutoff. Thanks to the Central Marin Police Authority, parents, and staff for feedback and collaboration on keeping our schools safe!
Follow Us! #WeAreLCMSD
Larkspur-Corte Madera School District Board of Trustees
Sarah Mueller, President; Jill Sellers, Vice President;
Monica Cañas; Katherine Chan; Sasha Morozoff
Superintendent
Dr. Brett Geithman