November 1, 2019 LCMSD Newsletter
In this edition . . . Gratitude, CAASPP, Board Updates, SPARK, and Committees at Work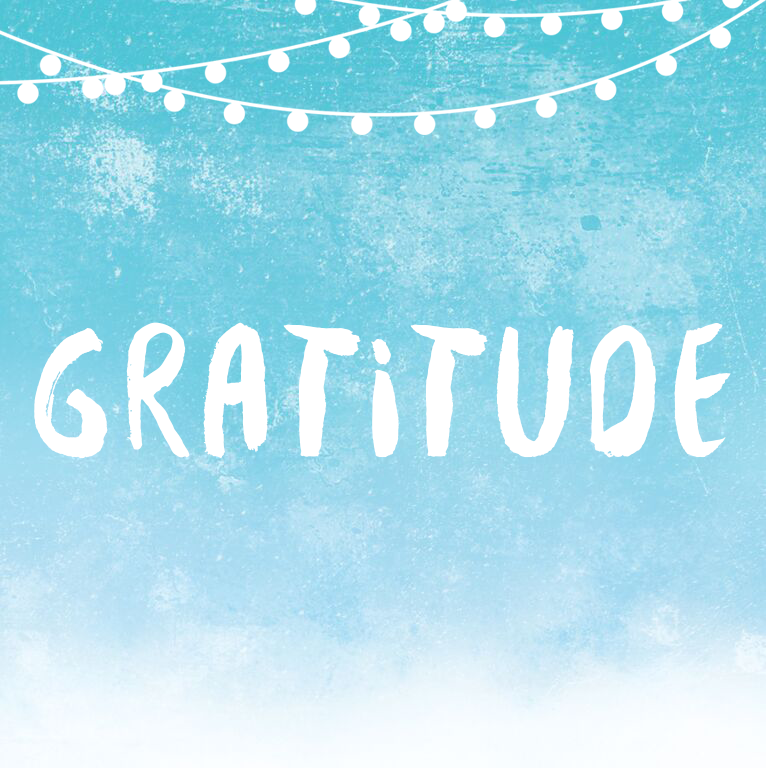 As the holidays approach, it is often a time for us to feel a greater sense of gratitude for what this season, year, or life circumstances have brought us. A practice we have in our family is to go around the table at dinnertime and share what we are grateful for that day. Over the years, we've covered the whole gamut, from being thankful that grandma was able to evacuate from the 2017 Sonoma fires, to family walks with our Bernedoodle, to (most recently) having electricity!
I'd like to take this moment to express my gratitude for this wonderful community. I get the privilege of engaging with your amazing children, our top-notch staff, and you, our supportive parents, each and every day. While California doesn't adequately fund schools (CA is 45th in the nation for per-pupil funding), you step up. You do this through SPARK donations, PTA/PTO memberships and fundraisers, and your generous support of parcel taxes. Without these sources of revenue, our schools would look dramatically different. Thank you for your support in our community-funded schools and if you haven't already donated to SPARK this year, November 19th is Giving Day.
CAASPP Achievement Results
Please join me and our Senior Director of Educational Services, Daniel Norbutas, for this series of "Coffee with Brett" where we will engage in a discussion on our 2019 CAASPP achievement results. As always, we will leave room at the end for Q&A on any other topics you might be interested in. All coffees are from 8:15 to 9:15 and will be held on November 5th (Cove), November 7th (Neil Cummins), and November 8th (Hall). We hope to see you there. Below are some CAASPP highlights and here is the presentation that was shared with the Board.
Math Achievement Overall is Up Again

Five-year high in Standard Met/Exceeded (74%)

10% growth over four years

ELA Achievement is Stable and Slightly Up from Last Year

Five-year high in Standard Met/Exceeded (79%)

Percentage of students meeting/exceeding standards between 77% and 79% in the last five years

Met/exceeded compared to last year higher for three grade levels, lower for three

Scaled Score Growth Mixed

Above average growth in 5 areas, below average growth in 5 areas

7th grade above average growth in both ELA and math

Subgroup Achievement Gap Persists

All subgroups continue to achieve below other groups

Sub Group Progress

Economically Disadvantaged ELA (49%) and Math (34%)

English Learner ELA (30%)

Hispanic/Latino ELA (55%)

Students with Disabilities Math (40%)
Board Meeting Updates
During the October 23rd meeting...the Board engaged in discussions and presentations on CAASPP student achievement results, Hall Middle School's standards-based grading, Fund 35, and a community pump track proposal. Additionally, the engineering and robotics programs, translation services, and Global Play Day were highlighted. The Board took action on the LCMEA/LCMSD tentative agreement for 2019-20 negotiations. The agenda can be found here.
SPARK Dad's Night Out
Like fun movies? Games? Hanging out with other dads?
Then come join us for SPARK's annual Dad's Night Out extravaganza. As well as screening a classic comedy, we'll also have dinner, drinks, games and prize giveaways.
When: Friday, Nov 8th, 7:30 pm
Where: American Legion Hall, Larkspur
Have fun with local dads and support SPARK funded teachers.
Tickets can be purchased here.
Committees at Work
Continuing with our theme of gratitude, I'd like to express deep appreciation for all staff who are engaging in our district-wide committee work. These committees are now in their third year and have been charged with creating multi-year plans for curriculum, professional development, intervention, and assessment. Daniel Norbutas, Senior Director of Educational Services and Technology, is our lead facilitator for all committees and does extensive pre and post committee work to make these plans come to life. The LCMSD Board of Trustees has engaged in processes to identify Strategic Priorities and top priorities (Readers Workshop and CGI Math) for our District. These committees actualize those critical priorities to elevate our students' success.
2019-2020 Leadership Teams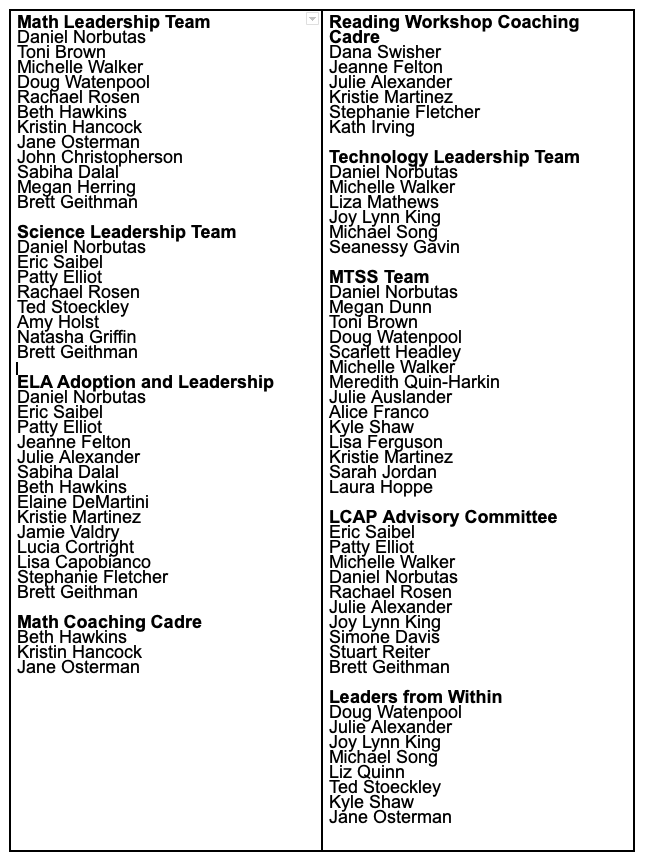 Follow Us! #WeAreLCMSD
Larkspur-Corte Madera School District Board of Trustees
Sarah Mueller, President; Jill Sellers, Vice President;
Monica Cañas; Katherine Chan; Sasha Morozoff
Superintendent
Dr. Brett Geithman