Superintendent's Newsletters
February 2020 LCMSD Newsletter
In this edition . . . budget updates, elementary literacy assessments, and school accountability report cards.

Newsom's Budget Proposal = Less Money for LCMSD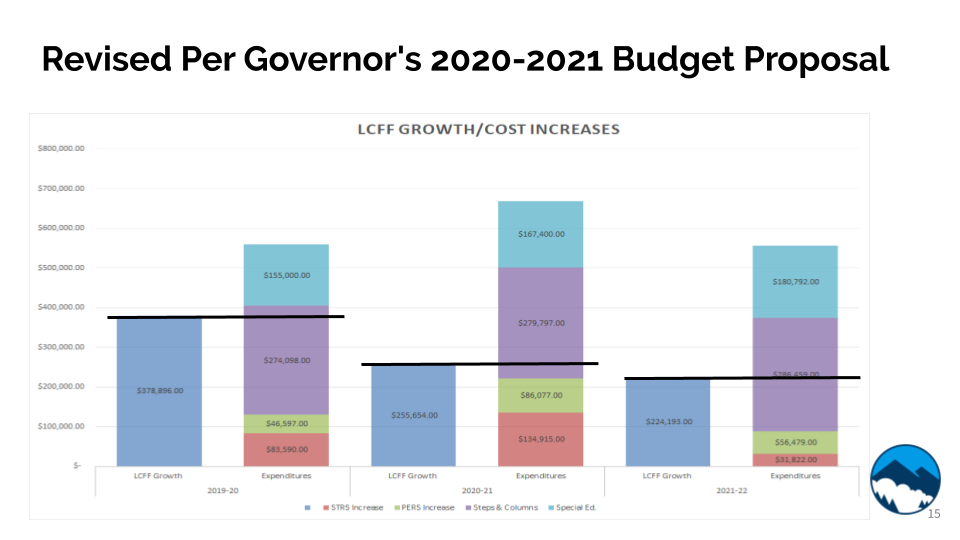 *Board Budget Study Session slide #15 showing new revenue vs. new expenditures
Budget Update
Every January the Governor releases a proposed budget for the upcoming fiscal year. The largest change in his previous budget vs. the proposal was his drop in the cost of living adjustment (COLA) from 3% to 2.29%. Even at 3%, our increases in expenditures are not covered. Above you can see the new revenue (COLA) in the dark blue compared to our new expenditures in light blue, purple, green, and red. These new expenditures represent the annual movement of employees on the salary schedule steps (years of service) and columns (education level), the increases imposed on us by the state for employee pensions (STRS and PERS), and increases to costs associated with special education services. Special education is an underfunded mandate, meaning we are required to offer these services, but the money we receive is far less than actual costs. This year alone we will have to use $2.4 million of general fund monies to cover the underfunded special education expenditures (total $3.5 million). We believe providing high-quality special education services is important and they should be fully funded. This lack of funding for special education is seen across all districts throughout the state. Due to the decrease in COLA and deficit spending, we will drop below our Board Policy reserve level of 6% in 2021-22. That is assuming there are no changes to employee compensation. Here you can see the recent Human Resources Report, which shows how LCMSD is in the bottom quarter for both salary and benefits. Our employees deserve competitive compensation. Districts such as Mill Valley, Ross, and Reed have an atypical funding model called Basic Aid, which ultimately provides them with much more funding due to the higher property tax revenue they receive; therefore, they can offer much more attractive salaries and benefits for employees. The funding models California utilizes (LCFF and Basic Aid) creates grave inequities and poses many social justice issues, especially when one compares an urban district like Oakland to Ross. Oakland should receive more per pupil than Ross for many reasons; however, Ross receives approximately 33% more due to their high property taxes/Basic Aid status.
So what are we forecasting for LCMSD? At this time we aren't proposing cuts. Last year significant reductions were made so that we would not eventually be taken over by the state; however, those reductions were made with the higher (3%) COLA factored in. Los Angeles USD is significantly pressuring Governor Newsom to adjust the COLA and if he does, it will be reflected in either May's revise or June's adopted budget. Additionally, there will be a measure on the November ballot that would provide additional funding to schools. Schools and Communities First will assess commercial property every three years and adjust taxes accordingly. There will be no adjustments made to residential real estate. Later this year we will host informational sessions on this measure. With all that said, if COLA is not adjusted, if Schools and Communities First does not pass, and/or if there isn't another form of funding introduced, we will be forced to make cuts in 2021 or 2022.
What your children experience in LCMSD is not what the state funds. You fund it through the parcel tax, SPARK, and PTA/O. This community support is our lifeline. State and federal monies are not keeping up with the basics. This is not only in LCMSD, but in most LCFF funded districts (about 90% of districts are LCFF funded and only 10% are Basic Aid). We are committed to excellence in LCMSD and strive to provide the best possible educational experience for your children while attracting and retaining highly qualified staff. During this week's coffee chats (2/4 at Cove, 2/6 at Neil Cummins, and 2/7 at Hall - all at 8:30 AM), we will discuss LCFF and gather feedback on our successes and next steps as a district. Additionally, during the March, May, and June Board Meetings, the 2020-21 budget will be discussed. On January 29th we held a Board Budget Study Session. To see the full presentation, click here. We hope you engage in these important conversations and appreciate your support in our community-funded schools. Please know we will continue sending updates as we develop our budget and Local Control Accountability Plan (LCAP).
Elementary Literacy Assessments - Personalized Learning
Thank you for your support during our literacy assessment minimum days. Our assessments provide accurate and reliable tools to identify your child's independent and instructional reading levels. These data help us to identify your child's strengths and next steps, which will allow them to select "just right books" (high-interest, yet within their level) from our classroom libraries and guide teachers in providing tailored instruction during student reading conferences at a level that is challenging.

After the reading assessment, you will be informed of a range of texts that would be appropriate for your child's

20 minutes of daily reading at home

. Daily reading is the most important part of your child's homework; please make this a fun and consistent practice in your home. Thank you in advance for your support in our goal to challenge and support all students whether they are below, at, or above grade-level standards.



School Accountability Report Cards
LCMSD School Accountability Report Cards are now published here on our website. These are a great "at a glance" tool for parents and the community. If you would like a printed version, please contact your school's main office.
Follow Us! #WeAreLCMSD
Larkspur-Corte Madera School District Board of Trustees
Jill Sellers, President; Katherine Chan, Vice President;
Monica Cañas; Sasha Morozoff; Sarah Mueller
Superintendent
Dr. Brett Geithman